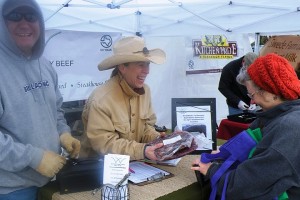 George and Amy Greer moved to Brady, Texas in 2008 to help run Amy's Family Ranch – the Winters/Wall Ranch. Amy is the 6th generation to work on this land and George is always up for a new adventure!
They decided to blaze their own new trail by raising Angus and Wagyu cattle that would always be

free from antibiotics, steroids and added hormones

. Their animals are given free-choice feed in the pasture and are 

never captive in feed lots

. They love their cows and always treat them with the utmost care and compassion.
Winters Family Beef is well marbled and

dry aged a minimum of 28 days

to provide the very best of steakhouse-style beef to customers, family and friends.